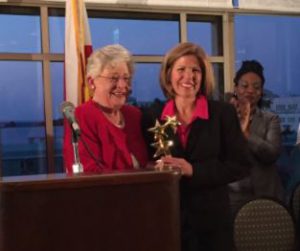 Alabama Gov. Kay Ivey congratulates Teacher of the Year Chasity Collier.
(This article was originally published on May 10, 2017, on al.com and was written by Trisha Powell Crain).
Mobile County's Chasity Collier was named Alabama's 2017-18 Teacher of the Year in Montgomery on Wednesday evening. Collier teaches fifth-grade science at Dawes Intermediate School and has been an educator for 19 years.
Collier, in thanking her principal, said teachers "can't do what we do if we don't have an awesome person who pushes us."
During the ceremony, Gov. Kay Ivey told teachers, "Our children are our future. Our teachers mold our children and thus our future. Your task is great and noble. The people of Alabama are in your debt."
In a highlight video, Collier, became emotional talking about how she loves her students and that "teaching isn't a job, it's a break" from household duties.
Hoover High School's Paul McEwen was named Alternate Alabama Teacher of the Year.
Collier served as an Alabama Math, Science, and Technology Initiative (AMSTI) coach for seven years prior to returning to the classroom in 2015.
"Teaching does as much for me as hopefully as I do for [students]. It balances me. It synergizes me, and I love what I get to do each and every day," Collier said after the ceremony.
Dawes Principal Michele McClung had high praise for Collier. "In my 25 years in education, she's the most dynamic educator I've ever witnessed," she said.
"She's been instrumental in being a teacher-leader and being an advocate for quality education for every child, every day," McClung said.
Four finalists were named in April, two from elementary and two from secondary grades.
Alabama's Teacher of the Year serves as an ambassador for education and presents teaching workshops. The winner also becomes a candidate for the National teacher of the year.
An elementary and secondary teacher was named from each of the eight Alabama State Board of Education districts in March. Local board of education members, a local superintendent or representative, the current district Teachers of the Year, and a representative from higher education served as committee members in selecting nominees.
The 16 finalists each spoke during the ceremony, sharing a broad range of teaching experiences and why they chose to become teachers.
Collier will begin her term as Alabama Teacher of the Year on Thursday.
The National Teacher of the Year will be named in April of 2018.
Regarding what's next, Collier said, "I can't wait, we've got awesome things in the future."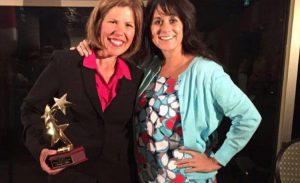 Dawes Intermediate Principal Michele McClung accompanied Chasity Collier to Montgomery for the Teacher of the Year announcement.